Rescues
He came to us a very small kitten. He had one strike against him: he was totally blind. At six weeks he had one eye removed because of infection. Later he would have the other eye removed. His eyes were then sewn shut. This was done so he would not constantly move the white part of the eye that was left.
He was found in an industrial park in a building where painting and powder coating were done. It's a wonder he survived. It's not known if this caused his blindness.
As he grew it was obvious that he was a very special cat. He did not have any problem finding anything especially his food (he loved cottage cheese). He chased toys just like the other kittens. He maneuvered the rooms and the furniture without a problem. He had a winning personality: very outgoing, loving people. Since he couldn't see, there wasn't any big or small, just one size, his.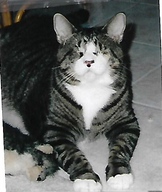 He was adopted and grew into a beautiful silver and black tabby with 4 white paws. He was named Bootie of couse. He was a big boy at one time weighing 25 pounds.
Bootie was much loved by his forever parents. It was as if it was an honor to have him as a cat. Unfortunately, Bootie developed cancer and died at age 13. He died at home in his favorite spot with his pet parent near. He led a charmed life.
This story is just one of the success stories we have about our ferals and their kittens.
VOLUNTEERS MAKE IT HAPPEN! Can you spend a few hours to volunteer from your home? You can be a virtual volunteer never leaving your home. You'd be working on the website, Facebook or writing a blog. You might also write news releases and stories, or contacting reporters at local papers to have articles written.
You can also donate a little time each Saturday or Sunday to work at our adoption events. Here you help maintain the event equipment and make sure everything is ready for the next event. Cuddling the kitties is a bonus!
Perhaps the most rewarding ways to volunteer is by becoming a foster parent. They provide the homes for our kittens until they are ready to be adopted. They are really dedicated to the well being of the kittens. Raising them to be social, friendly and playful can take time, but what a reward it is to see your kittens reach the point of adoption and know you have raised a kitten that someone will take home and love.
If you don't have any extra time, your donations of money and supplies keep us going, no matter how small.  We depend on outside donations for medical expenses, food and supplies.
No matter what you can donate it will help us to reach our goals.  A little help from many people can give us the power to do a lot of good!